In junior high school, Walt fell head over heels in love with the world of archaeology, and particularly with the ancient Egypt of King Tut. He had a school assignment to give a five minute talk on the subject of his choice. The second speaker up, he was still talking when the end of class bell rang. His teacher was so impressed that Walt was asked to give a full presentation to the entire school. And so it went for his entire lifetime, giving hundreds of talks usually with full slide show presentations to travel clubs, on radio and tv, to school classes - elementary, high school, and college levels, and yes, even to sci fi writers and fans. He loved all of them, but the elementary schoolers held a special place in his heart. And they returned it in full measure with hugs and letters.

In the 60's he became friends with Dr. Kamal El-Din, Chief Inspector of Antiquities of Egypt, when the King Tut exhibit first toured the U.S. Impressed with Walt's knowledge of Tut, Dr, Kamal even asked Walt to fill in at some scheduled lectures when he was ill for a few days. Walt was the only non-Egyptian permitted to touch the actual artifacts and photograph them outside their protective plexiglas cases, an unimaginable thrill for Walt.

During the second Tut tour in 1978, Walt served the LA Art Museum as the historical expert answering questions from the folks waiting in line to view the artifacts.

In 2005, Walt received a letter, which he treasured for the rest of his life, thanking him for his enthusiasm and the sharing of his passion for ancient Egypt from Dr. Zahi Hawass, then Secretary General of the Egyptian Supreme Council of Antiquities.

Sadly, Walt was never able to go to Egypt in person, but did take several trips to Mexico visiting and photographing many archaeological sites. Due to his background, he was given permission to visit active digs, well beyond what the typical tourist can see. Pre-columbian Mexico was also a specialty of his, and he often lectured on it as well. In fact, he received a Knighthood from a Mexican fraternal organization in recognition for his lectures on their history.

During his life he also worked on several actual digs, from an early one (while he was still in high school) whose artifacts are on display at the LA Natural History Museum up to a more recent era one which was a nearby search for sets from DeMille's silent "10 Commandments" which were buried in the sands of the Guadalupe dunes. Not Egypt, but close enough and he loved every moment it. Of all his passions in life, archaeology was top. He never lost his enthusiasm or his interest, and looked forward to every new issue of "Archaeology" magazine and every new archaeological special on the Discovery Channel.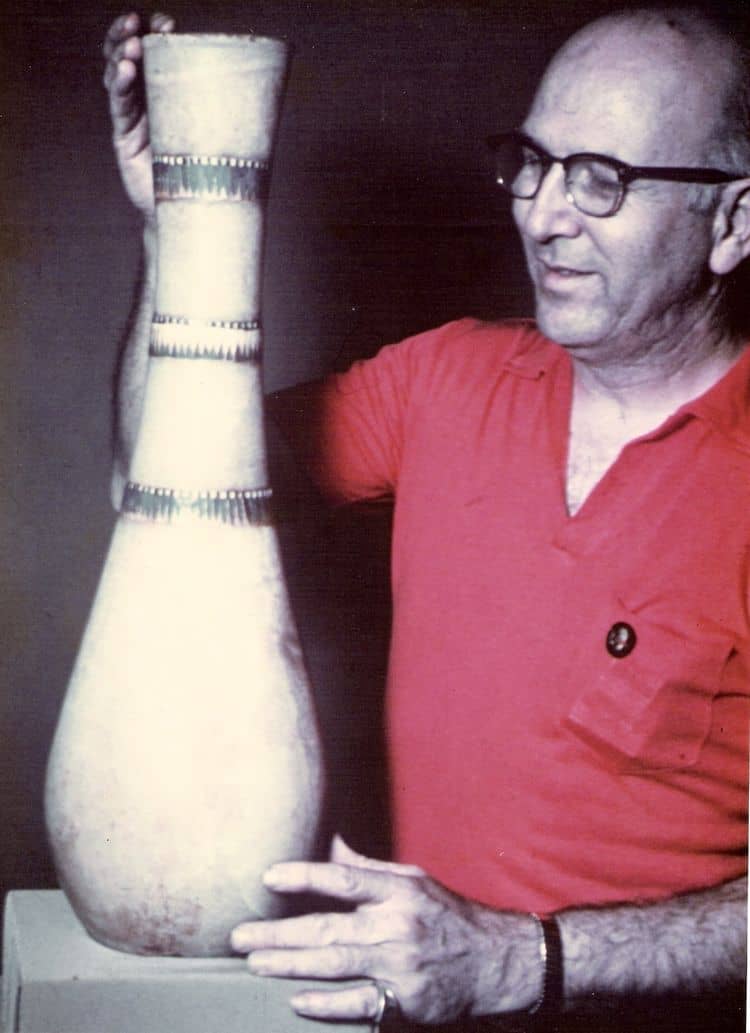 Next only to Tut's golden mask, this vase
was Walt's absolute favorite artifact.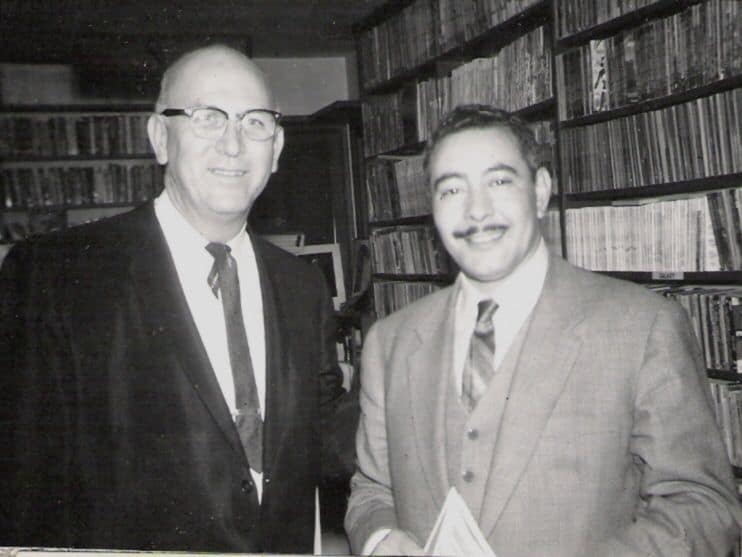 Walt Daugherty with Dr. Kamal El-Din